Felt Applications
Since felt is among the oldest known textiles, felt has been used for a wide variety of uses through the centuries. As technology improved, the use for felt and nonwoven fabrics continued to find applications in new and emerging industries. With such a wide range of possibilities, US Felt's products are used for a multitude of applications in many industries.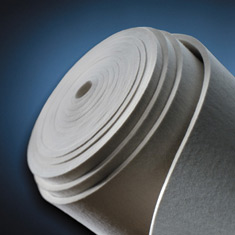 The solutions to customer felt applications begin with the proper selection of fiber or fiber blends. US Felt's "Fiber-First" program was developed as the initial step of product development; selecting the right fiber for the right application. US Felt's network of fiber resources provides technical expertise and knowledge of available fibers worldwide to fit any application. With the expertise for natural and synthetic fiber, US Felt is uniquely capable to provide total solutions.
The selection of fiber to manufacture a high performing product is based upon the attributes of the fiber in conjunction with the function and properties desired for the application. US Felt's products are developed and engineered in close collaboration with our customers and suppliers. Whether designed by the customer or designed by our technical staff, US Felt has a product for your application.
With such flexibility and versatility, there is a universe of possibilities for how felt and nonwoven materials can be used.