US Felt Process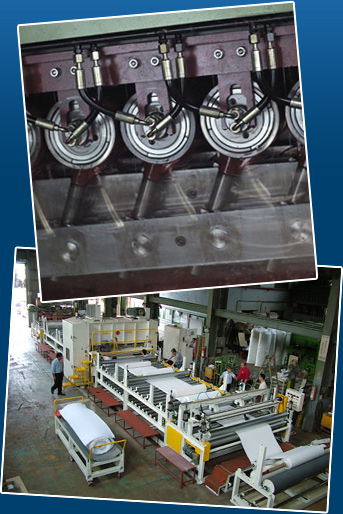 Nonwoven Technologies
US Felt manufactures nonwovens utilizing traditional pressed felt and needled felt technologies. The two techniques have similar, yet distinct characteristics and are complementary to each other. As a result, US Felt is able to offer a broad spectrum of products.
Each process starts with the opening and carding of staple fiber, both synthetic and natural fibers. Pressed felt is bound by the use of wool fiber whereas the needling process can utilize all types of fibers, whether natural or synthetic.
Fibers are provided in compressed bales that are first "opened" through a blending system. Blending also enables the mixing of different fiber types to create unique composite products. Fiber is then fed into the carding system. Carding is a series of rolls and cylinders that align the fibers into a consistent, uniform direction.
The fibers are then "layered" by a lapping process creating a uniform batt. The batts are now ready to be entangled resulting in the formation of the felt or fabric product. It is at the stage of the process where pressed felt and needling become unique.
Although unique methods of joining fibers together, each process of nonwoven manufacturing is capable of producing a diverse range of nonwoven fabrics for a variety of applications. Having both technologies provides US Felt with the capability to offer the widest possible range of materials from a single manufacturer. It also gives US Felt a distinct advantage as a global source of innovative and customer designed felt and nonwoven materials.