Needled Felts and Nonwoven Products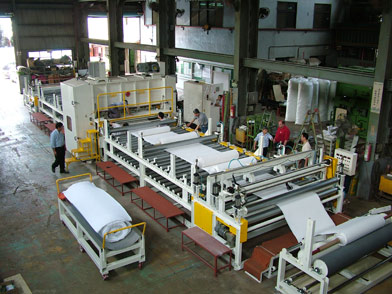 Needled felts offer a perfect solution for a broad range of applications. US Felt's needled nonwoven technology enables the manufacturing of the most diverse range of products in the industry today. Needled felts can be made of almost any type of fiber, both synthetic and natural. As a leading innovator, US Felt can custom engineer products to your exact standards. Needled nonwoven structures have excellent tear resistance, fray resistance, tenacity, absorbency and are highly breathable. A wide range of other properties and functions can be imparted based upon the use of specialty fibers or through various treatments.
Available as:
Roll Goods
Sheets
Fabricated Parts
Types:
Wool

SAE grades F1, F3, F5, F7, F10, F11, F13, F15, F26, F50, F51, F55
.045 inch to 2 inch (1.1 mm to 51 mm)
White, Grey, Black

Synthetics

Traditional: Polyester, Polypropylene, Acrylic, Nylon
Specialty: Rayon, Modacrylic, OPAN (oxidized acrylic), Carbon
White, black and colors
5 oz./sq. yd. - 200 oz./sq. yd. (170 gsm-6700gsm)
.030"- 2 inch (.8 mm to 51 mm)

Engineered Fibers

Binder Fibers (low melt homopolymers / copolymers)
*Outlast Acrylic / Viscose
*Outlast is a registered trademark of Outlast Technologies, Inc.
Specialties
Fire Retardant
Heat Resistant
Absorbents
Thermal Protective
High Density
Electrostatics
Recyclable, reusable and environmentally sound materials.