Environmental Commitment and Environmentally Friendly Material
US Felt is among the most dedicated and responsible companies to protecting our environment. Our product mix and utilization of resources is driven by environmentally friendly materials. Our process technology and plant facilities are designed for protecting our air, water and land that surrounds us. We emit no hazardous substances from any of our manufacturing technologies. We do not just talk about "green," we live "green" whenever the opportunity is there.
We also manage our waste streams through recycling and waste reduction programs. We can reuse recycled materials back into our process or we find applications where our waste can be used. In fact, US Felt has established programs with our customers, utilizing their waste to make products for their customers. This is an ideal arrangement of completing the total cycle of utilizing recycled material from primary product manufacturing and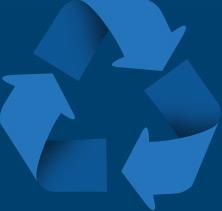 creating new product opportunities.
It all starts with "Fiber-First", the materials that go into our products. With one totally dedicated technology to wool, we have expanded the use of this process to include products using other natural fibers. The importance of natural fibers is because they are renewable and sustainable. They are also high performing fibers for a variety of applications.
Our synthetic products and materials are perfect for being recycled and finding a variety of uses to avoid going into landfills or incinerators. US Felt manufactures products using recycled materials originating from both "post industrial" and "post consumer" sources. As a result, US Felt can design products made entirely of recycled materials sustainable with a continuity of supply.