Pressed and Wool Felt Products and Fiber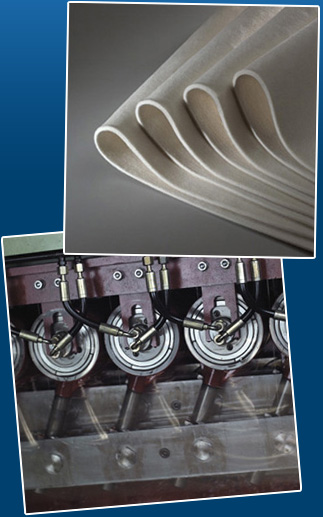 As a leader in the use of pressed natural fibers, US Felt remains only one of a few key manufacturers of mechanical wool felts in North America. A complete range of densities is offered based upon established SAE classifications. Wool felts are naturally fire retardant, hypo-allergenic, provides excellent thermal and acoustical insulation, along with other functional properties. These natural attributes of wool fiber make wool felts among the most versatile performing materials. Enhance properties can be achieved by a variety of treatments within the capabilities of US Felt.
Available as:
Roll Goods
Sheets
Fabricated Parts
Types:
White Wool

SAE F1, F5, F10, F50
From 1/16 (1.5 mm) to 1 inch (25.4 mm)

Grey Wool

SAE F3, F7, F11, F13, F15, F26, F51, F55
From 1/16 (1.5 mm) to 1 inch (25.4 mm)
Treatments:
Mildew proof
Fire Retardant
Sized
Specialties:
Hybrid
Pressure-Sensitive Adhesive Backed
Stripping
Coils
Plugs
Enhanced, natural, renewable, recyclable and environmentally friendly materials.