Felt and Fiber Materials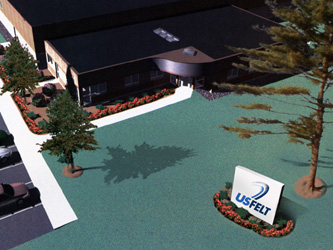 From its beginning in 1987, the US Felt Company has been built upon a foundation of services to our customers and employees as defined in the following company objectives:
Meeting all Customer Contract Specifications
Shipping product On Time
Committing to Employee Safety and a reduction of lost days away from work
Actively pursuing these objectives daily is essential and fosters a sense of respect, responsibility, and confidence as demonstrated through:
Teamwork- Achieving common goals with a collaborative approach.
Creativity- Enabling a keen sense of innovation, quest for knowledge, and continuous improvement.
Performance- Meeting stringent quality standards and on time delivery.
Prosperity- Providing an environment that fosters the success the company and our customers.
With the change in ownership in 2007 US Felt is well positioned to face today's challenges. Our belief in forming strategic alliances, valuing our employees, and committing to continuous improvement are the cornerstones that provide a secure and exciting future for all.
With our emphasis on customer satisfaction US Felt is a trusted supplier to our customers. We are positioned to provide a "raw material to finished product" solution.