Nonwoven Products, Natural and Synthetic Fiber Products- US Felt
US Felt possesses among the widest offering of products in the industry today. This is a direct result of the close relationships we form with our customers and suppliers. US Felt's entrepreneurial spirit provides the foundation for innovation and creativity. Supported by engineering, design and technical resources, our products are highly functional for a variety of applications. Our manufacturing capabilities are well suited for "incubating" developing technologies and providing customized products.
US Felt's product range involves a broad selection of fiber types and composites. With pressed and needled felt technologies,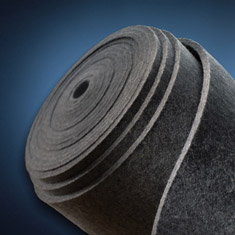 products are comprised of natural and synthetic fibers. These fibers can be specialty types, in their "natural" state or recycled. Typical fiber types processed by US Felt include:
Polyester
Polypropylene
Acrylic
Rayon
Wool
Ortho Felt
Directional Felt
US Felt offers a complete range of traditional SAE felt densities and as a needled alternative. The typical range of products are manufactured with:
Weights from 5 to 120 ounces per square yard (170 to 4030 grams per square meter)
Thickness from .040 to 2 inch (1 to 51 mm)
Widths up to 120 inches (3.05 meters)
With our specialty needling of high density felt, our current capabilities have produced material up to 500 ounces per square yard (16,800 grams per square meter) and to a maximum of 3 inches (76 mm).
Our needling technology provides enhanced product types with the ability to create composites. Composite structures can be made by combining different felt types or combining a nonwoven felt with various other types of nonwovens, woven or knits, foams, rubber and films.